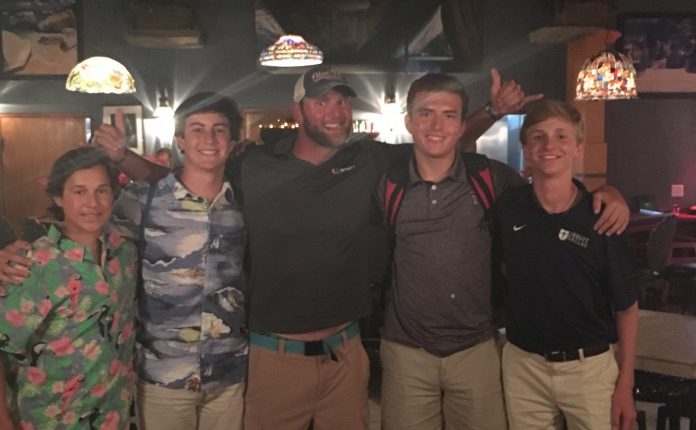 Day 6 was yet another incredible day in the BVIs even though it was our last :(. Day 5 ended with a night snorkel that was very cool. On the snorkel, we saw several tarpon, lobster, and squid. The squid was made up of a unique purple and green color in the night which was a strong difference from their appearance in the day. After the night snorkel was bed time so that's why day 5 blog didn't include night snorkel. In the morning on day 6 we had donuts at Jasmine house that was provided by Casey. These must've been BVI's special donuts because they were massive. After eating our giant donuts, we proceeded to soldier Bay to conduct our cleanup project for the trip. This project involved cleaning up washed up trash off the beach of Soldier Bay. We collected hundreds of scraps and about 30 trash bags of garbage off the beach. The project served as a cool area to work in but also as an eye opener to the amount of garbage polluting our oceans. After our project on the beach, we headed to the harbor to eat lunch and do any last minute shopping. I had a cheeseburger and fries for lunch and it served as a great midday meal. After our lunch we went back to the cabins to finalize our research projects and then presented in the lobby area in front of the dive BVI staff and the Jesuit chaperones. The staff wanted the best group to go first so of course Ben's Beasts(my group), went first. After the presentation my group went to the cabin for showers and preparation for mass/dinner. Mass was at an incredible location on the top of a hill overlooking much of Virgin Gorda. From mass we went to dinner with the BVI staff and said our final goodbyes and thank yous over a great dinner at the top of the baths restaurant.
An overall assessment of the week:
This week has been one of the greatest experiences I have had in awhile. From getting to know my Jesuit brothers further in one of the most beautiful locations in the world, to conducting research on topics that interest me, this week has given me an opportunity like no other. I'd like to thank Casey and Ben, the rest of the Dive BVI staff, and the Jesuit chaperones for making this week so incredible. I have learned so much from great people and couldn't have asked for a better group to spend time with. I hope that I may be able to participate in Marine 2 next year and that I may have another opportunity as great as this next year!