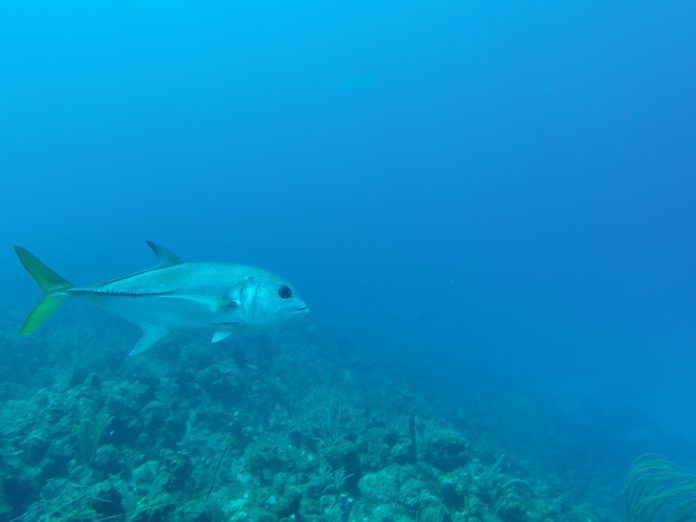 We rose early to prepare breakfast for everybody. We didn't have to cook anything, but we tried to make our breakfast as memorable as possible. We spelled out "Plum" with the small cereal boxes, but other than that we weren't too creative. Afterwards, we boarded the taxi and went to the marina. Mr. Kirby left for the small island airport after riding with us to the marina.
After departing from the marina aboard the Sea Monkey, I took the wheel from Ben and drove us to the dive site. Andrew began to feel pretty sick, so he didn't join us on the dive, but Mr. Marr took his place. We descended and quickly set up our area of research. Throughout the dive, we studied three different areas and got some solid data for our research project. Today, we studied areas at deeper depth than those from yesterday. At the end of our dive when we were cruising around and having a good time, we saw a few barracudas swimming around us. We ascended to the boat after our safety stop. When we surfaced, we found out that Andrew had thrown up 7 times during our dive and we took him and Mr. Von back to the marina. We had very few people on our boat after losing Andrew, Mr. Von, and Dr. Kirby. On the way over to our other dive sight on the other side of the island, Connor lost his hat in the water. A fish is probably wearing it right now, enjoying the stylish tan hat from the U.S Virgin Islands. On our second dive, we figured that we had enough data so we just had a fun dive and explored. As soon as we descended, we were followed by a "Horse-eyed Jack," a very funny-looking fish with his huge eyes. Along the dive, I took a lot of pictures of parrotfish for our presentation. We were then followed by several small reef sharks for a few minutes. Afterwards, I spotted a lion fish hanging under a coral ledge and also a Sand Diver. Then we ascended and had our surface interval and ate lunch with the Sea Dragon crew.
After lunch, a group of other students from Sea Dragon joined us on Sea Monkey, and our boat got really crowded. Then, we went for a shallow dive to clean off a coral nursery. It was fun to clean off the pvc pipes and coral. We all had some small shrimp on us afterwards. That dive lasted about fifty minutes. We then returned to the marina and returned to our cabins. I went to the beach before dinner and we played frisbee. Casey made some great spaghetti and garlic bread. Tomorrow we are diving the Rhone and we have our night snorkel. I'm really looking forward to seeing the wreck.