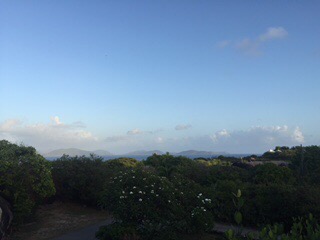 The first day of the marine biology trip has already surpassed all of my expectations. The sun was already up when I woke up around 5:45. After a quick briefing of hotel rules, the group set out for the docks to eat breakfast and prepare for our dives. On the way out to our first dive site, our vessel, the Sea Dragon, came across a beautiful green turtle.
As we descended on our first dive, the first fish I came across was a trumpetfish, a long and slender bodied predator. For the rest of the dive, we refreshed our skills and travelled along the rim of the site, seeing a wide array of parrotfish, blue tang, and blue head wrasse. Coming across colorful and exotic coral, I figured the rest of the dives would be equally as fascinating. However, the second dive was filled with caverns, canyons, and a swim through, completely trumping every aspect of the first dive. We spent about half the dive edging through a canyon lined with elkhorn coral and several schools of blue chromis. As we approached the chimney, a narrow pathway between two large boulders, there were three gorgeous French Angels swimming around. After about 40 minutes and a maximum depth of about 45 feet, we finally surfaced and concluded our last dive of the day.
Once we returned to the resort, we had a picnic on the beach before snorkeling to the mystic Bathes. The snorkel lasted about twenty minute before we arrived at the beach adjacent to the Bathes. Our guide led us through narrow and treacherous rock formations leading to a hidden oasis as well as a small beach. Once we entered the the first cavern, Beth told the story of how the park received its name from the thousands of slaves who first landed at that location to be bathed before being sold into slavery. Sadly, the returning snorkel came with fatigue and soreness, but with the help of Mr. Marr, I eventually made it back to the shore and concluded the ocean events of the day.