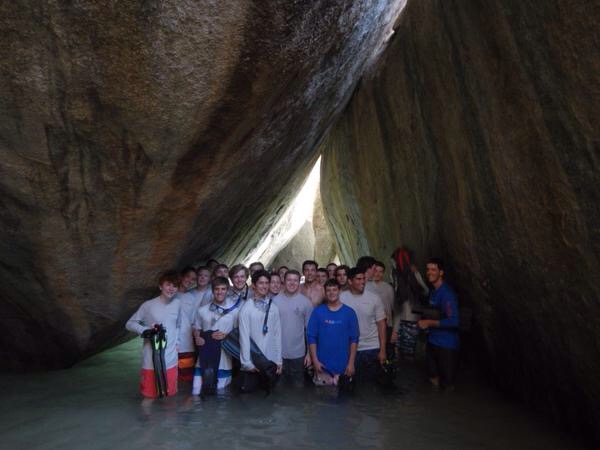 This morning came as an abrupt and early snap back to reality after a long day of travel while my alarm blared and my roommate and I awoke. 6:30 wake up did not come easy, and after running out the door to breakfast I felt like I really still was asleep. All of this however was shortly made up for tenfold the second our BCD's touched the sea and our first descent began.
Our day of diving came started with a mandatory checkout dive at George Dog Island which allowed us to check our bouancy and other basic skills, as well as begin the day with a bit of light exploration and identification. The ocean floor was littered with various aquatic plants and even featured a wreck from long ago that sunk at the end of Tortola Island's runway and now functioned as a shelter for Goatfish and new reef life. In our venture of the ocean blue we spotted a large school of Bar Jack and many jellyfish with massive amounts of egg strands floating by. When swimming back we spotted a lone Moray eel hiding within a small cluster of coral that prepared for any and all debris as a source of food. After a quick stop for snacks and a change of location we dove again, this time with less constraints we dove into the coral garden, which featured a larger variety of life. Fire coral here was considerably abundant and the ocean floor was more covered than our previous dive site, which consisted mostly of small jellyfish and barren sand. Our time there was enhanced by our guides, who went out of their way to help us and spot important marine life that we might question. The conclusion of this dive lead us to a quick lunch and a short break before our next journey.
The final part of our day one expedition consisted of two parts: An arduous trek down to the sea and a short snorkel through an area called the baths back to Guavaberry Springs, our place of residence for the week. The hike consisted of many important features such as the uniqueness of the boulders located amongst the island, which formed from the nearby volcanic sea ditch that churned up magma that hardened and formed nearby land masses. Upon arriving at the shore, we were ushered into a small opening in an outcropping of boulders that lead deeper along the coast and featured magnificent caves filled with water and rocky paths which we traversed cautiously. Many of the monolithic stones provided incredible shelter, which was appreciated due to the over abundance of sun that showered down upon us. Eventually we arrived at the shore, and now the time had come to snorkel. Despite our lack of proper scuba gear we witnessed incredible sights, from a lone barracuda to a large pufferfish that paid little attention to our group. The coral grew well here due to the shallow depth and clear water, which provided us with a gorgeous view of the ocean floor with all of its bright aquatic brilliance. The experience today was fantastic and honestly more than I expected and the sights left my jaw hanging as I took in the gorgeous view from my first day in the BVI.