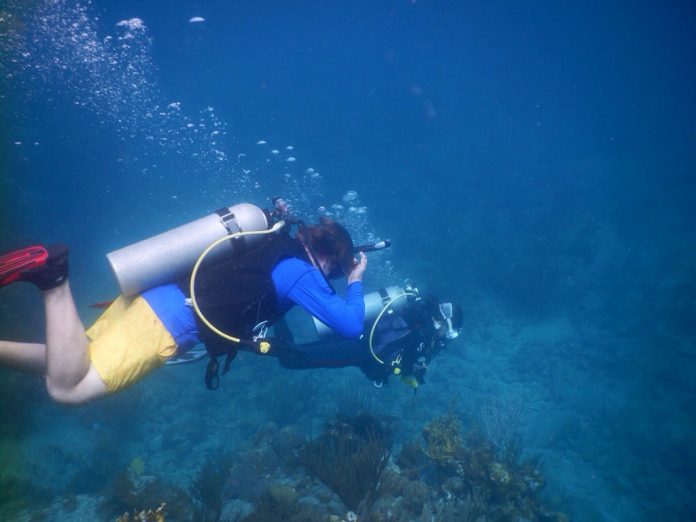 Today, I woke up around 7:00 to the sound of Mr. Ben Kirby waking us up for the last time. Once we were all showered and ready to go, we took our bus down to breakfast to start the day. After a delicious omelet breakfast, we started heading to the boats to start our diving.
We started by going to Paul's Grado and Joe's cave while doing some fish ID. Hank would help me identify the fish while I wrote them down on a slate. The cave was really cool in particular because it was unique and interesting. After a couple of hours of scuba diving, we decided we could use a nice lunch, so we heading to a nice little restaurant right by the Dive BVI shop.
At lunch, I had a very good and delicious bacon cheeseburger and Arnold Palmer. After lunch, we all went into the Dive BVI shop and checked out all the merchandise they had for sale. Once we all took a nice bathroom break, we headed back to the boats to go to The Baths to snorkel.
At the Baths, we did many things. We learned about moss, how to get mangos, the history of pirates and slaves, and we also learned how to model in the rocks where a Sports Illustrated model did. We finally got to start our snorkel where we saw many different species in the water including barracuda. After snorkeling for a while, we realized that it was about time to eat again so we went back to our resort.
Once we came back to our resort, we got ready for a nice dinner on a patio with a great view. Unfortunately, our whole staff wasn't able to make to dinner but we still had a good time with some good friends. After a delicious Mediterranean meal, we got to sit around and watch the sun set while just hanging out and relaxing with our friends. Once we were finished, we headed back to our resort to clean up and head to bed. Since we weren't exactly exhausted, we took a couple of minutes to play some UNO cards with other cabins. It was very fun. Thank you for tuning in, talk to you later.
Elliot Hartman