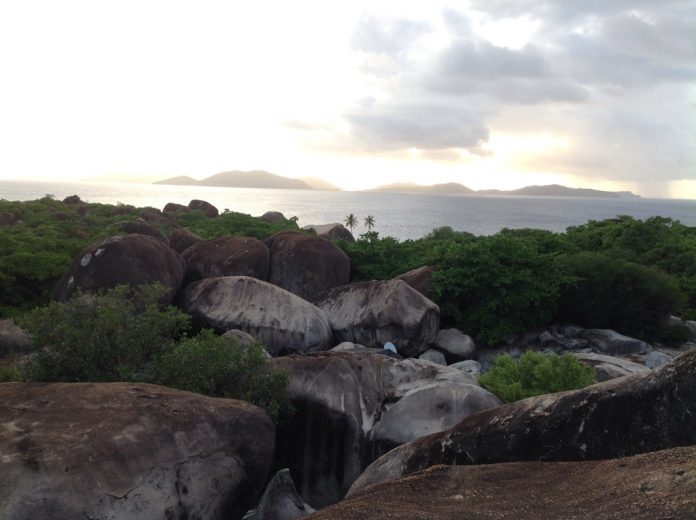 Today the Jasmine cabin, consisting of Jackson, Chase, Liam, Luke, and myself, awoke around 7 AM for breakfast. It was a rough night sleep, for my body has yet to adjust to the humid climate and lack of an air conditioning system. After breakfast, Casey, Jeff, Jeremy, and the gang gave us an introduction to the island and marine life. For a few hours, we refreshed upon various species, like the fairy basslet and nurse shark, and discussed different issues surrounding aquatic ecosystems. For instance, we conversed about the ethics of sea world and whale captivity, the invasive lion fish, and the consumption of turtles. Afterwards, we had sandwiches for lunch.
Finally, we were ready to enter the water. We headed down to the boats and set off for the site. There were two boats, Sea Monkey and Sea Dragon, one for Marine 1 and the other for 2, respectively. After a brief refresher on diving safety, we chose partners and set up our gear. My partners were Adam and Noah. On our way to the site, we passed by beautiful island and estates, like that of the owner of Miracle Grow. Today's site was Bronco Billy, off the coast of George Dog Island. Right before we entered, it began to rain, but it didn't affect us much. The water was much warmer than expected, though not as clear. Visibility was approximately 40 ft.
My team went with Jeremy. After reaching the bottom, about 30 ft down, we went over general skills like mask flooding. After that, we took a tour of the ocean floor, observing many kinds of coral and fish. We were even lucky enough to even ind a nurse shark lurking about.
After returning back to the mainland, we relaxed at our cabins for a short while, then headed to dinner, where we had spaghetti. The restaurant had an amazing view of the islands, posted here. This brings us to current time.Overall, today was a good day.