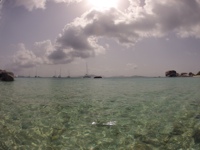 Unfortunately, these were our last full days in Virgin Gorda. I woke up at 7:45 to get ready for the day. After I showered, I walked over to the teacher's cabin for breakfast. Once there, we all ate breakfast and I had a blueberry muffin and banana bread. After breakfast, we all walked on the main road to paint walls for community service. Once we got to the walls, we first pulled the weeds off the plants. After we got the weeds out, we started to paint the flowers pots. We painted them green, yellow, white, and blue. Then, we let them dry and we painted a second coat on all of them. After we painted the flower pots, we painted a part of the wall. Our design was the scuba dive flag inside of the Jesuit emblem. Luke designed it. After we painted our part of the wall, we started to fill in what the other artists had done. Some of the paint had worn off and we fill in those areas. I filled in the areas where black paint had worn off. Then it started to rain. We waited for the rain to die down and then we walked back to Guavaberry. We took a short break and then went to the Olde Yard to eat lunch and take the final. For lunch, I had a ham and cheese sandwich and a chicken sandwich. Then, after lunch it was time to take our final. We took it with our dive buddies, so Luke and I took it together. For the final, we were supposed to present our answer to a question that would be given to us. Our presentations were about marine environments and the process of turtle tagging. Luke and I both felt like we did a good job. After the final, we were given the rest of the day to chill before dinner. After we went back to Guavaberry, we met by the commissary to pay off our bills and then go to the beach by the resort. So, my cabin and I paid my bills and headed to the beach. Once we got to the beach, we put sunscreen on and immediately went into the water. We tried a small surfboard, but most of us failed. Then, we played frisbee for the remainder of our time on the beach. Everybody was tackling each other to get the frisbee and even Dr. Gruninger joined in. After we walked back to our cabins, we showered and got ready for the banquet. Then, we took a taxi to the banquet and took a group picture in the sunset. Then we proceeded to eat and we had ribs, chicken, potato salad, cole slaw, and some very good fried bread. The food was very good and then we watched videos about the trip, put together by Casey and Laura. They were both very good. After we watched the videos, we saw large tarpon in the water near the restaurant. We, then said goodbye to Brian and Laura and headed back to our cabins. Then, I took a shower and went to bed, because we had to get up at 4:30 the next day.
We then woke up at 4:30 on Wednesday for a long travel day. We took a taxi to the marina and met Casey and Jeff there. Then, they took us to the airport from their boat. We said goodbye to them and waited by our gate. We then boarded the plane, and it took off for about a 45 minute flight. We landed, went through customs, and went to our gate for what we thought would be a 2 hour wait. Unfortunately, we were extremely wrong. They, then told us our flight wouldn't be ready until 9. After we got the news about the flight being delayed 9 hours, we ate, watched movies, played games, and slept. The total time of the layover was 13 hours. Even though the wait was not very fun, it definitely didn't worsen the trip. We finally boarded our flight at 9 and landed in Dallas at 1 am.
This trip to Virgin Gorda in the BVI was truly one of the best ones in my life. Everything about it was phenomenal, especially our Dive BVI instructors, Jeff, Casey, Brian, and Laura. They worked tirelessly to make sure we had a great trip and greatly succeeded. I cannot thank them enough for everything they have done. I also want to thank our Jesuit teachers, Mr. Kirby, Dr. Gruninger, and Mr. Nevitt. They also worked tirelessly to make sure we had a fun and successful trip. Overall, my trip to the British Virgin Islands was truly special, and I thank the Dive BVI staff and Jesuit teachers for all of their hard work.