Not often do I feel an uncanny need to produce a multimillion dollar film about a cruise ship, once named unsinkable, that tragically crashed leaving nearly all passengers dead, all due to error on the captain's part. Truly, the story of the sinking of the R.M.S. Rhone is a tragic one. But the fact that it led to what is quite possibly the most beautiful wreck dive I've ever seen likely makes up for this history.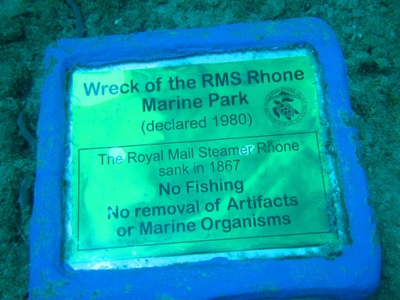 The morning started with my roommates relaying to me the actions I purportedly took during my sleep last night. Apparently, I had sat up in bed and waved my arm at Killian, mumbling profusely. Additionally, I must be one really positive guy, because I told Jeff to "have fun". He asked with what, and I responded with nothing. Just shows that I got a good night's rest!
We headed out to the harbor for a quick dockside breakfast. We then mounted the sea monkey, heading for our first dive site.
The R.M.S. (Royal Mail Steamer) Rhone was one of the first and largest ships to be named "unsinkable" by it's creators. It was built in 1865, and was used for cargo shipping and then as a Cruise ship. factoid: during storms, passengers were strapped to their beds so that the crew could move around quickly on deck. This is where the term "sleep tight" comes from. In 1876, the Rhone was caught in a great hurricane. However, since this was during October, Captain "Wally" assumed that it was an early winter storm instead of a hurricane, and moved to take the Rhone out to sea to wait out the storm. Unfortunately, the anchor was caught on a coral reef, necessitating its release. For about four hours, captain Wally assumed he was taking the ship out to sea, when in fact the Rhone was just going in circles. The Rhone struck Black Rock Point, causing the boiler to explode, splitting the Rhone in half. Out of around 200 people, only 23 survived, of which only one was a passenger.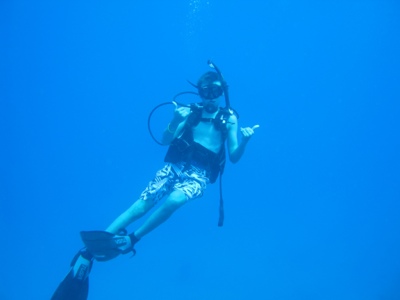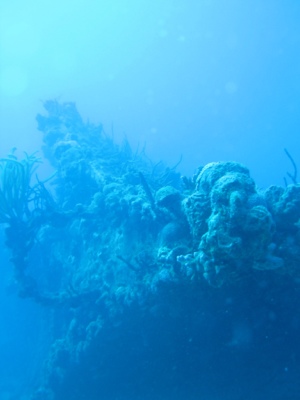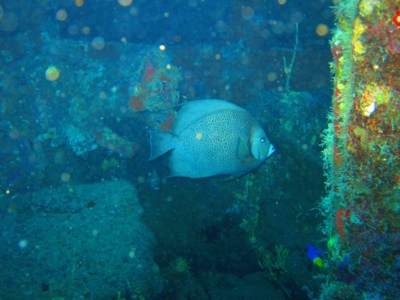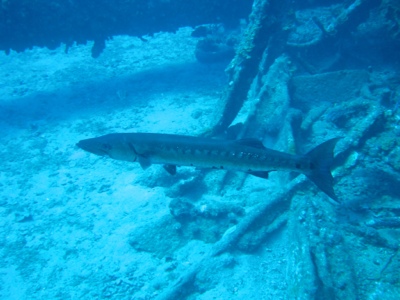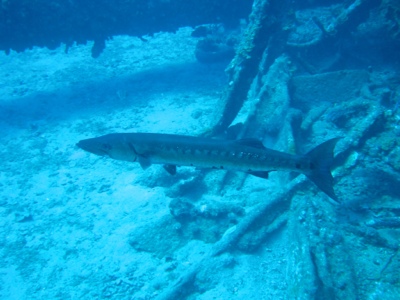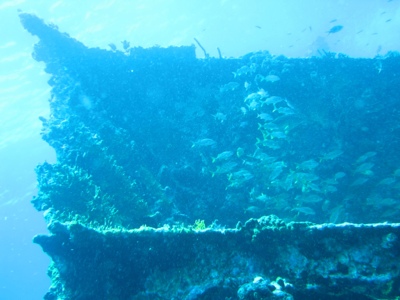 We arrived at our entry point. There was a slight current, though nothing we couldn't handle. I was buddies with Killian and Sean for this dive. The wreck of the Rhone is stunningly beautiful. Fish everywhere, beautiful corals. Sean and I were at the back of the pack for a bit, and as we were about to swim through the wreck for a second time, we were greeted by a great barracuda right in front of us. So cool. We then went to the other side and saw a green moray eel. So much fun. We rose up. Had our safety stop. Got out and moved to our second part.
After about forty five minutes, we SCUBA'd up and went down. The stern of the Rhone was, quite possibly, one of the greatest things I've ever seen. Cascading patterns of color, fish, and life. I saw sea anemones, a spotted moray eel, all sorts of parrotfish, beauty at every turn. The current was somewhat strong, enough to pose a slight challenge to less experienced divers. (insert word here denoting my awareness of my own snootiness.) anyways: after swimming through the propellor compartment a few times, we headed back. Outrageous fun was had by all.
After a short boat ride, we arrived at Cooper Island Resort. Whilst waiting for our food, I noticed my classmates feebly attempting to crack open a coconut. Stepping in, I grasped the coconut with my powerful arms and struck it against a rock once, twice, thrice, with a vengeance and fury matched only by the fiery passion of Zeus himself. With a satfisfying cadence of "crack", the sweet nectar of the Carribbean sprang forth, a fountain of joy and whimsy. After this display of my strength, we enjoyed some peppery fish n' chips along the shore. We then heard the many ways in which cooler island is aiming to be 95% alternative energy efficient. Quite interesting.
Once again the Sea Monkey made its way for another quick trip to snorkel. A beautiful reef runs along the side of Cooper Island. Killian, Sean, and I set out once again. Immediately upon entering the water, we saw six (6) barracuda, as well as some eels on the bottom. After a swim over some turtle grass, we saw a hawksbill turtle! We continued onto the reef, where we saw the usual suspects. (it should be note that although I say "usual suspects", I am still filled with wonder and happiness at the sight of these animals.) A funny event occurred; we saw some SCUBA divers. We jokingly swam down to them and gave them the "no air" hand signal where we wave our hands in front of our throat. Suddenly, one of the diver's tanks came loose, and he struggled to replace it. He was asking the two women with him if he was "OK", and they kept giving him the signal back that he was "OK". After a quick facepalm, Sean and I identified the issue, practiced the methods of breathing we'd been taught, and acted. We dove down and helped the diver re-strap the tank to his BCD. Probably one of the coolest things I've ever gotten to do.
We then continued on our way. We saw a conch and seven barracuda on our way back to the sea monkey. So much fun out on the boat on the way back; most of us sat on the top deck, and held on pretty tight. There were some larger waves riding back, so it was much bumpier and a lot more fun riding back. When we arrived at the marina, we all helped to unload the tanks. After a quick rest at our cabins, it was time for dinner at mad dog's. We had some pretty good lasagna, and the usual cornholing went on. A family from Maryland was also at the bar then; the had a house locally that they went to for a few months out of the year. I explained to them what JCP marine biology was, and how we had been blogging on our iPads. Their ten year old daughter, Willow, was interested in being a marine biologist, so I let her read my blog on link sea turtle tagging. While she was reading this, I spoke to Casey about dive master internships. I know two things now: I can go to college and still become a dive master; and that I want to become a dive master. After this, Casey gave us all a quick rundown over the processes behind coral restoration which we would be doing tomorrow. If I wasn't already excited before, the added opportunity I'd been made aware about in terms of dive master internship pushed me over the edge. I am very, very excited.