Today I was woken by 3 chickens, balking at me through the panels of my room at 6:45. After that we went down to the cattle guard (the section of ground cut away with bars on top so cattle can't walk on it) and waited for our taxi. We got to the Olde Yard, ate breakfast and did and exercise where we learned to hold our breath longer so we could dive deeper on our snorkel trips later on. The first time we did it, I held my breath for 45 seconds, the second time (after stretching our chest muscles) I held for 1:00, the third time (in the pool) I held for 1:17. After that, we had Joel Dore come to give us a presentation on turtle conservation in the Caribbean, since he's the head of turtle conservation in Virgin Gorda. After the presentation, we went to Little Dix Bay: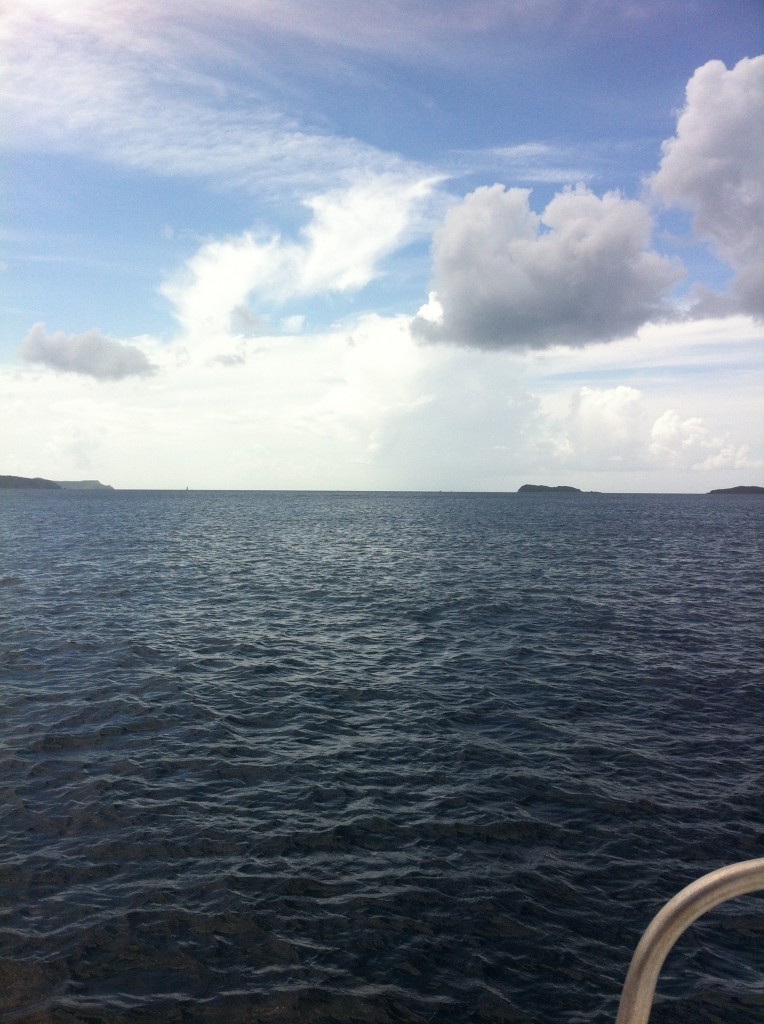 – and went turtle tagging in the ~15 ft water. Only a few teams got to chase turtles with a spotter boat to help collect them, and only 1 turtle was caught (by Carl, someone who was on another boat). In the water there were tons of animals – Eaglefish, crabs, urchins, angelfish, some brightly colored ones, some camouflaged ones, striped ones, tiny ones, almost too many to count. I saw and followed a stingray around for about 10 minutes, watching it digging into the sand to find food. Swimming above the stingray were 2 fish, trying to mooch from whatever the stingray found. I then dove 15 ft down and brushed my hand down its back, and it swam away. Then there was a turtle aboard the ship because Carl had caught it. I took a 30 minute video of the tagging process, and we named the captured turtle "squirtle" we put the turtle in the water and it quickly swam away. After tagging, we ate at the Rendezvous Bar, where I had a delicious burger. After lunch we took a taxi back to our huts, rinsed off, and Sean, Alex, Andrew and a few others played frisbee for about an hour in the blazing sun. One of the throws went into the trees, and I chased after it. I then found myself in a mango orchard, seeing a bunch of unripened mangos on the trees. I then saw a worker, talked to him for a bit, and he took a rake, and picked a ripe mango and gave it to me. He said it was good enough to eat, so I took a bite out of it. It was the best mango I have ever eaten. After all of us gathered at the cattle guard, we walked down to the baths, packed up all our things in Casey's car, and walked down to the beach. We then took a 20 minute tour of the Bath Caves, a cave system used to wash slaves hundreds of years ago. We walked through the winding cave system, and got onto the bay. We then planned to snorkel out back to the other end of the bay. As soon as we put on our fins and mask, there was a herd of moon jellyfish there to sting us all. Throughout the dive most of us got stung several times, but it was a really cool dive. I got to free dive up and down through coral, by fish and under underwater arches. There were so many different species in each coral patch, and there were many interesting things to see. At one point I dove 50 ft down into the water, and disturbed a flounder that was hidden under the sand. It swam away and hid under the sand again. I kept swimming up and around the reef, looking at different fish and coral, and finally finished the tour. I got out, took my boots off, and immediately got stung by a drifting stinger. After I dried off, I counted my stings. I had 18 on my left leg, 4 on my right, 1 on my wrist, and two on my knee. Feels good man. But I had Advil, so it wasn't bad. We walked back to our huts from the beach, took showers, cleaned our stings, and then we walked to Mad Dogs. Sean, Alex, Andrew, Chris and I all played frisbee for an hour. Then we threw it into a tree on accident, and while Andrew tried to get it, I backed into a cactus and got three arms stuck in my leg.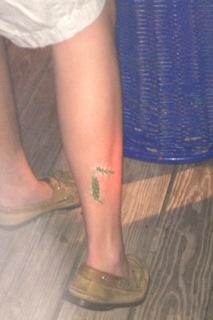 After I extracted those, we watched my groups project on cetation hunting, which was shockingly bad. We left Mad Dogs, walked home, got our iPads, and wrote our blogs. So tired. Go bed.