I'm slightly pressed for time, so I will be uploading an initial and undetailed draft of this post, with more detail to follow.
After a night of hot and slightly fitful sleep, I woke up to the sounds of paradise: screaming roosters. I got up and went out on the patio, rejoicing in the day with a few friends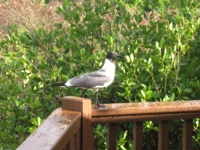 After rousing ourselves, the group met at the cattle gate to wait for a ride to breakfast. After a short trip on Gordas main highway, we arrived at the Olde resort, where we had a delicious breakfast. Afterwards we had a sort of orientation where we met our dive instructors: Jeff and Casey McNutt, Brian, and laura. There are two boats that we are divided amongst: the sea dragon and sea monkey. I was stationed aboard the sea monkey, with Jeff and Laura as our instrucTors. also aboard our ship: Mr. Kirby, Coach Nevitt, Chris w., Buck Lyon, Killian Womack, Sean Lyden, Andrew Chittoor, Dylan Dotter, Chris lanyon. After breakfast, we went for a quick swim in the pool outside.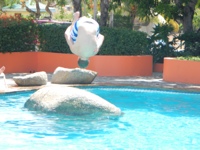 After going through some more ground rules, we did some one on one with our dive instructors before another quick swim and then lunch. After lunch the real fun began. We loaded into the truck again and drove to the Dive BVI home in the bay. We loaded up and headed out. Our dive spot was called valley trunk; after some quick checks on equipment we unloaded into the water. We did a few skill checks with Jeff and then headed out for a quick forty eight minute dive. We saw several fish, but what was most notable was our hunting of lion fish. Jeff harvested a total of eight lion fish. This was by far my favorite part, as I am a fan of the Naked Gun, lion fish, and visceral combat.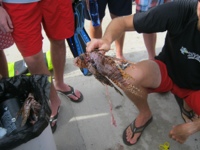 After a fun dive and returning to shore, we dissected three lion fish; nothing found inside but hey- blood and guts, right? Anyways, after this we returned to our cabins for a while. I showered and rested, and then proceeded to the cattle gate for some hardcore frisbee. After wrecking it up, it the group then proceeded to eat at Mad Dogs a half mile up the road. I had a great conversation with Brian, the Irishman who has traveled the world. We then watched two videos, one on global warming and another on invasive species, both made by students. We then returned to the cabins, and then to the Internet commons, where I am now composing this blog entry.