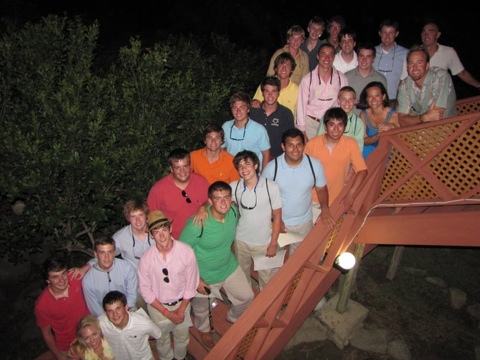 We did it! What an awesome course and experience. This morning the guys helped out the local volunteer life rescue team with a little manual labor in the sun on this beautiful island. The guys then had some down time to swim/hang out on the beach or just relax. In the evening we then went to mass, which was great experience. We were the only ones present for the evening service, and it was yet another kodak moment with the boys. The guys basically ran the mass, leading the readings and choosing and singing the songs. It brought a tear to my eye…
The staff at Dive BVI gave us a great send off with a dinner and slideshow that was bittersweet and very emotional. Casey, Sam, Andrew, and Jeff did such a wonderful job and I know I am not speaking for myself when I say we are greatly endebted to them. Their hard work really paid off and positively influenced our lives.
This week I really enjoyed watching the guys form into safe, talented, and confident divers in response to Dive BVI's amazing program. It was very rewarding to see the guys start to "get it" once they got to have the hands on experience with the marine life here. It really helped them to understand the concepts we discussed in class.
The guys were such a pleasure to be around. Mr. Kirby and I were still being told by various staff members from different places around the island how great are guys were. I really appreciate them taking this experience seriously and making our job easy. I enjoyed getting to know each one of them better this week.
To all the guys, Mr. Kirby, Casey, Sam, Andrew, and Jeff: thanks for letting me be a part of an amazing experience. I thoroughly enjoyed it and cannot wait to be part of it again. This was probably one of the hardest years of my life and this trip really helped rejuvenate my soul. I can't wait to come back to the BVI! What a beautiful place with amazing and truly special people!
Doc